Dr. Anthony Costa, Clinical Instructor with the UBC Department of Orthopaedics and orthopaedic surgeon in Prince George, served as Event Chief Medical Officer (CMO) for the 2021 International Ice Hockey Federation (IIHF) Women's World Championship held August 20 – 31, 2021 at the WinSport Arena at Canada Olympic Park in Calgary, Alberta. The 2021 championship, […]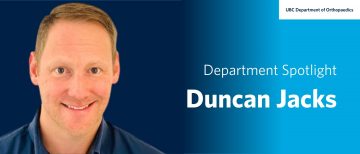 Meet Dr. Duncan Jacks! He is a Clinical Instructor with the UBC Department of Orthopaedics and leads the Victoria Enhanced Recovery Arthroplasty (VERA) program. His combined passion for skiing and medicine has led him to serve internationally as team physician with Alpine Canada and on the downhill ski race course during the Vancouver 2010 Olympics. He continues to work with the Blackcomb Ski Patrol.
Join us for an online info session and discussion of the UBC Orthopaedics Residency Program and our CaRMS application process from the perspective of faculty and residents.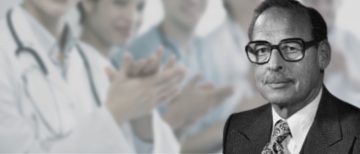 The late Dr. F.P. Patterson, founder and longtime head of UBC and VGH Orthopaedics, will be inducted in the Vancouver Coastal Health (VCH) Medical Staff Hall of Honour in a ceremony on October 18, 2021. Dr. Patterson was a dynamic person and well known in orthopaedics around the world.
We are thrilled to welcome 24 clinical fellows to UBC Department of Orthopaedics from across the globe in 2021. Each of our new fellows brings outstanding accomplishments and a deep commitment to the highest standards of clinical care. Clinical fellowships in the Department of Orthopaedics at UBC provide opportunities for trainees to expand their knowledge […]