BERTRAND PEREY
CLINICAL PROFESSOR

Division:
Orthopaedic Trauma

Site:
Fraser – Royal Columbian Hospital
Can you share a little bit about your educational background and journey, and how you got to where you are today?
I was born in the city of Montreal in 1962 to European immigrants; my father was from France and my mother from Denmark. I was raised in a French household and did not attend English school until Medical School. My father, a General Surgeon, working at McGill University, moved to Sherbrooke, Quebec, in 1967, to open the Medical School in Sherbrooke named Centre Hospitalier Universitaire de Sherbrooke.
I began medical school in Sherbrooke in 1982, but during that year, my father moved to Halifax to become Head of the Department of Surgery at Dalhousie University. Due to the financial benefits of transferring to Dalhousie University, I moved to Halifax in 1983 to begin my second year of medical school. After graduating from medical school in 1986, I completed a one-year, rotating internship, prior to moving to Bathurst, New Brunswick where I worked as an Emergency Room Physician for three years. As a medical school classmate of Doctor Charles Fisher, who was already in an orthopaedic residency at UBC, I decided to join him in 1990.
What inspired you to work in orthopaedics, specifically orthopaedic trauma?
During my residency, I became very interested in the field of orthopaedic trauma. Dr. Robert Meek facilitated an interview with Dr. Jesse Jupiter in 1994, and it was during this interview that I decided to pursue an upper extremity in Trauma Fellowship with Dr. Jupiter, at the Massachusetts General Hospital, starting in the summer of 1996. During the winter of 1994, I did a three-month elective rotation in Davos at the AO institute performing research on bone morphogenetic protein.
In 1995, Dr. Jesse Jupiter, who at that time was chair of the Orthopaedic Trauma Division of the Massachusetts General Hospital, changed leadership roles after the passing of Dr. Richard Smith, who was the Head of Hand Surgery at Harvard University. Dr. Jupiter was named Head of Hand Surgery and thus the focus of his practice did change dramatically. As such, I was now to become a Hand Surgeon.
To better prepare myself for the sub-specialty training in hand surgery, I was offered an additional year of Fellowship in hand surgery at UBC with Dr. Peter Gropper, from 1995 until 1996, prior to starting in Boston. In July 1997, I began my career working at the Royal Columbian Hospital.
What excites you most about your work? What are you most proud of?
Since 1997, the focus of my practice has been orthopaedic trauma, with an interest in Upper Extremity reconstruction.
Shortly after beginning my practice, I became involved in a series of administrative positions in the Fraser Health Authority. These include the positions of Head of the Department of Surgery at Eagle Ridge Hospital, Head of the Department of Surgery at the Royal Columbian Hospital, and finally Head of the Orthopaedic Division for the Fraser Health Authority, as well as President, and founding member of the British Columbia Hand Society.
I am so proud of the working relationship that I have with my co-members of the Division of Orthopaedics at the Royal Columbian and Eagle Ridge Hospitals. Our working relationship, collaboration, and focus on quality care is, perhaps, as good as it gets. I am hopeful that we can set an example for our colleagues working in the same type of environment and that orthopaedic surgeons, as a group, can become more engaged with each other to collaboratively improve quality and cost of care.
What is one piece of advice that you would give to current trainees?
I have very much enjoyed working with residents during my entire career. My advice to current trainees is to remind them that, although the training period feels fairly lengthy, the period of time that you will spend working as an orthopaedic surgeon is much longer. Individuals must figure out the aspects of orthopaedic practice that will create joy, fulfillment and, ultimately, satisfaction with their career. I encourage new members to contribute to their respective hospitals and colleagues by taking on leadership roles in any aspect of their work.
My final words of wisdom would be to encourage fellow colleagues to find venues outside of their work that will bring them a sense of sustained happiness, long after their years of clinical practice ends. This can be difficult for many, making the concept of retirement very difficult.
When you're not working, where can we find you?
I have found joy in many of my hobbies, such as golfing, snow skiing, water skiing, boating, and cooking. I do realize that as I age and likely develop worsening musculoskeletal function, that my hobbies may need to change. As I turn sixty years of age, I am preparing to move my enthusiasm for orthopaedic surgery to other non-medical endeavors that are currently in a state of evolution.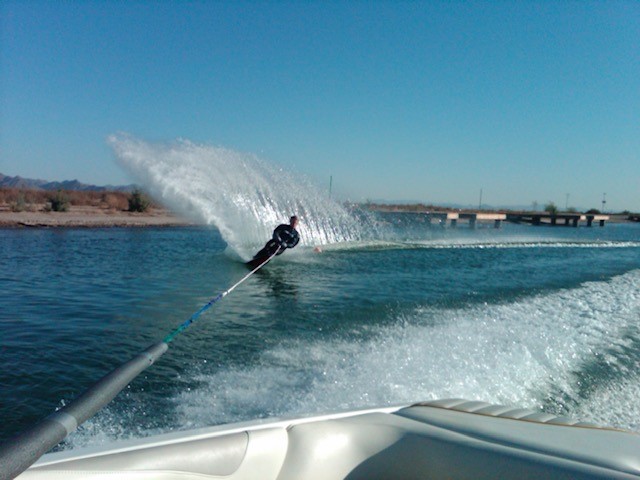 I have had, and continue to have, a fantastic career in orthopaedic surgery and I am most proud to say that I have very few regrets in my career decisions and what these decisions have provided for me. I am eternally thankful to all my mentors, and for the opportunity to provide this faculty spotlight.
Share this story:
---
Latest News