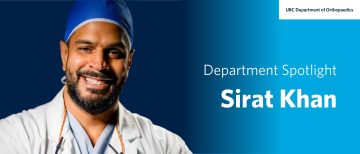 Meet Dr. Sirat Khan! He is an Upper Extremity Clinical Fellow with the UBC Department of Orthopaedics, Division of Distal Extremities at St Paul's Hospital in Vancouver. Dr. Khan grew up on the South East England and completed his medical training in London. As he nears the end of his clinical fellowship, he share his experience of the program in this Department Spotlight.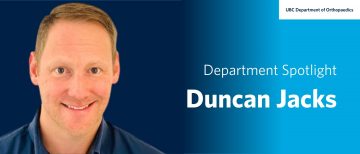 Meet Dr. Duncan Jacks! He is a Clinical Instructor with the UBC Department of Orthopaedics and leads the Victoria Enhanced Recovery Arthroplasty (VERA) program. His combined passion for skiing and medicine has led him to serve internationally as team physician with Alpine Canada and on the downhill ski race course during the Vancouver 2010 Olympics. He continues to work with the Blackcomb Ski Patrol.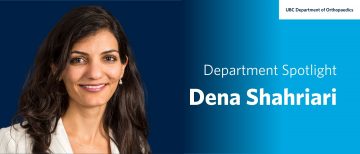 Meet Dr. Dena Shahriari, an Assistant Professor with the UBC Department of Orthopaedics and UBC School of Biomedical Engineering. She leads the BioAugmentative Interfaces Laboratory at the International Collaboration on Repair Discoveries (ICORD) in Vancouver, British Columbia. Her research lives at the intersection of materials science, electrical engineering, and medicine.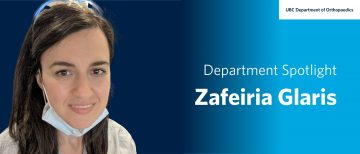 Meet UBC Orthopaedics Research Assistant, Zafeiria Glaris! Learn more about her work and what she enjoys about working in Hand and Upper Extremity research.
RAPHAELE CHAREST-MORINCLINICAL ASSISTANT PROFESSOR Division:Spine Site:Vancouver – Vancouver General Hospital Can you share a little bit about your educational background and journey, and how you got to where you are today? What inspired you to work in orthopaedics, specifically spine surgery? I was born and raised in Québec city. For as long as I can […]